Family Dentistry & Implants In Steveston Dental Implants
Your Steveston Dental Implant Clinic
A Proud member of Apple Dental Implant Centre
Our Apple Dental Implant Centre – Steveston location shares an office with Family Dentistry & Implants In Steveston, making it a convenient one-stop shop for all your dental needs. 
To book your consultation contact: Family Dentistry & Implants In Steveston
110-3755 Chatham Street, Richmond, BC, V7E 2Z4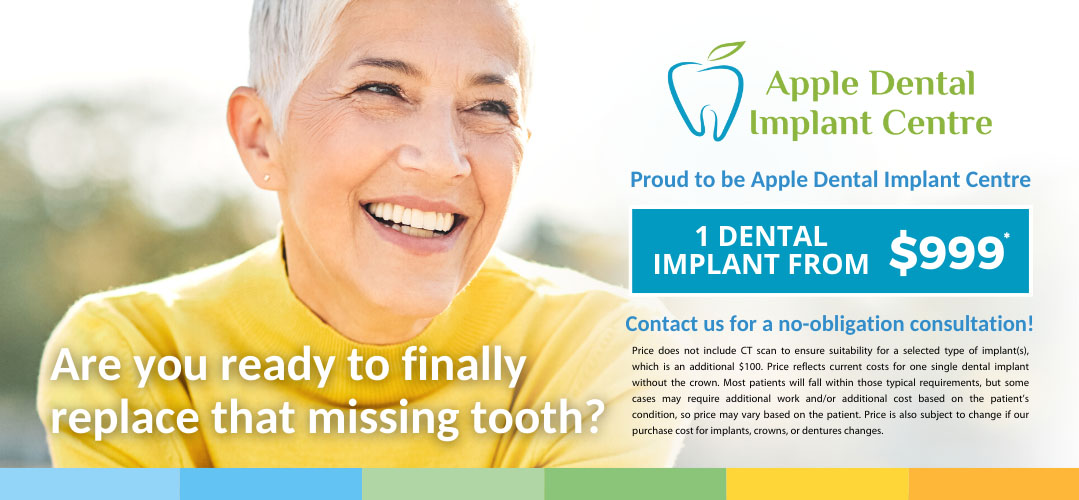 Contact Our Clinic Regarding Your Dental Implant Consultation Today!
What are Dental Implants?
A dental implant is a small man-made titanium screw that serves as the replacement for the root portion of a missing natural tooth which is often topped with a crown as a replacement for the visible portion of a missing natural tooth.
Dental implants are placed in the bone of the upper or lower jaw where they permanently bond with the bone and serve as an anchor for the replacement tooth (referred to as a Crown). Since dental implants can be used to replace multiple teeth, the implant can also serve to anchor a bridge or, in tandem with additional implants, it can even support a full denture.
Dental implants look, feel and function like natural teeth, and with proper care can last a lifetime.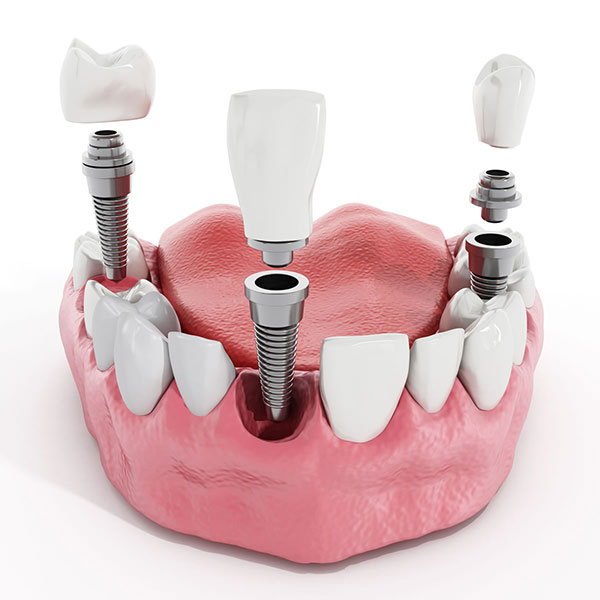 Are Dental Implants The Right Option For Me?
Dental implants are a proven restorative option with a long clinical history of many successful cases and happy implant recipients. In addition to allowing you to recover the joy of eating and chewing the foods you love, dental implants can also preserve the integrity of the facial structure (protecting your remaining teeth and preventing bone loss). Learn why dental implants are the most popular method for replacing missing teeth.
Dental implants are appropriate for practically any individual who is missing teeth or at risk of losing teeth. Often, older clients express concerns that their age might avoid them from delighting in the advantages that dental implants offer. However, health is more of an identifying factor than age. If you're healthy enough to have a tooth removed, you're most likely healthy enough to get dental implants. There are very few medical reasons why you may not be a candidate to get a dental implant. Our dentists will certainly discuss these with you if required.
Single Tooth Replacement
An implant may be used to replace almost any missing tooth, provided there is adequate bone at the site. If not, modern procedures can usually be performed to regenerate enough bone to safely place an implant. The implant is placed in the bone below the gum tissue. A temporary abutment may be placed on the implant until the healing phase is complete. A cosmetic temporary crown can often be made to fill the missing space.
A dental implant provides numerous advantages over other tooth replacement choices. In addition to looking and operating like a natural tooth, a dental implant replaces a single tooth without sacrificing the health of neighbouring teeth. The other common treatment for the loss of a single tooth, a tooth-supported fixed bridge, requires that adjacent teeth be ground to support the bridge.
Since a dental implant will essentially replace your tooth root, the surrounding bone is better maintained. With a bridge, some of the bone that previously surrounded the tooth starts to weaken. Dental implants integrate with your jawbone, helping to keep the bone healthy and intact.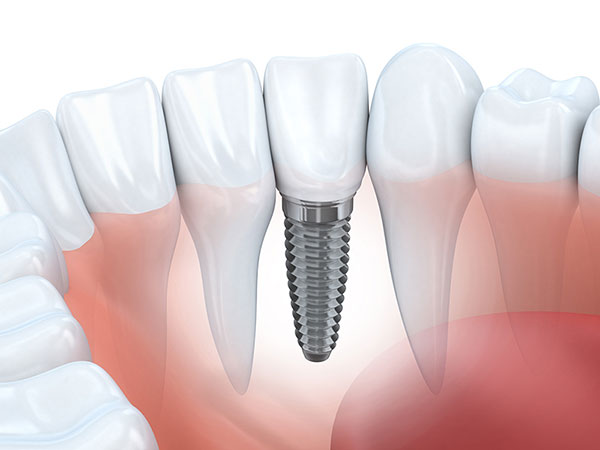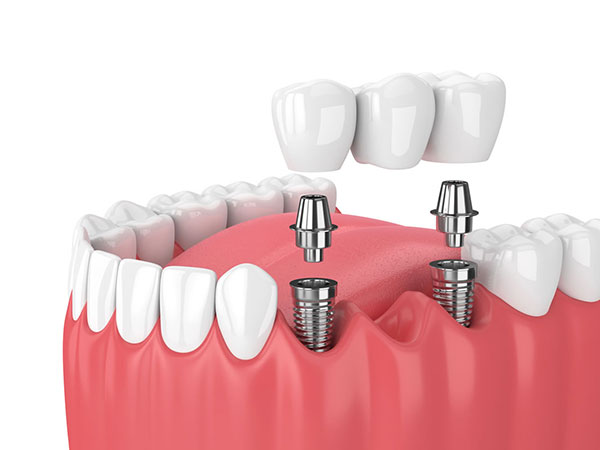 Multiple Tooth Replacement
Implants can also be used to replace several teeth, eliminating the need to grind down healthy adjacent teeth to serve as posts for traditional Crown & Bridge therapy.
The implants are placed in the bone below the gum tissue. Like single tooth replacement, temporary abutments may be placed on the implants until the healing phase is complete.
After healing, the abutments are attached to the implants. They will hold a custom-made bridge that the dental laboratory will mould and match to your existing teeth.
In the final step, the custom bridge is cemented onto the abutments. The teeth have been replaced without disturbing the healthy teeth next to them, and bone loss has been halted.
Full-Mouth Replacement (also known as all-on-four)
If you are missing most or all of your teeth in an arch (top or bottom), or have teeth that are too damaged to be saved, a full-mouth replacement implant may be a suitable option. Also known as a fixed implant-supported prosthesis, All-On-4® treatment, or All-On-Four Implant, these options all involve a permanent bridge containing a full arch of new teeth being attached directly to a small number of anchor implants (often four implant roots as the names suggest).
The implants are positioned just below the gum tissue and given time to fuse with the bone. Temporary abutments may be placed on the implants until the healing phase is complete. Your existing denture may be modified so that it can be worn without disturbing the implants during the healing process.
Other treatments for the loss of natural teeth in an arch are fully detachable dentures. Dental implant-supported fixed bridges permit the replacement of the natural teeth with a fixed (non-removable) re-mediation.