Veneers
Veneers are thin, semi-translucent porcelain placed over the front teeth. Veneers can significantly enhance the appearance of your smile and help to restore your confidence in your appearance. Common problems that are treated with veneers are:
Spaces between teeth

Broken or chipped teeth

Unsightly, stained or discolored teeth

Crooked or misshapen teeth
Veneers can be a great cosmetic dentistry solution to your smile, and in some cases, they can be used to avoid orthodontic treatment. Most veneer applications can be completed in two visits at our clinic. To learn more about how veneers can be used to improve your smile, call our dental clinic in Richmond, BC, today.
Dental Implants
A dental implant is an artificial tooth root that is surgically anchored into your jaw to hold a replacement tooth or bridge in place. Implants do not rely on adjacent teeth for support, and they are permanent and stable.
The ideal candidate for a dental implant should have good general and oral health. Adequate bone in your jaw is also needed to support the implant. The best candidates have healthy gum tissues that are free of gum (periodontal) disease.
Implants can replace a single tooth, several teeth, or if you are missing all of your teeth, an implant-supported full-bridge or full denture can replace them.
Dental implants require the same care and cleaning as normal teeth. To learn more about dental implants and to see if this cosmetic dentistry procedure is a good option for your oral health and smile, give our Richmond office a call!
Platinum Invisalign® Provider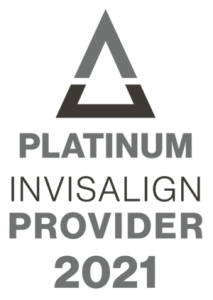 Dr. Fazel is a Platinum Invisalign® Provider, which is because of her level of education and experience with Invisalign. Talk to us about your Invisalign treatment today!
Invisalign treatment is a great alternative to traditional braces, which can be unsightly and uncomfortable. Invisalign treatment uses a series of clear, removable, custom-fit aligners that straighten teeth over time. Each aligner is worn for roughly two weeks and only removed for eating, brushing and flossing. As you replace each aligner, your teeth will move, little-by-little, until they reach the correct positioning.
At Family Dentistry & Implants In Steveston Richmond, we're pleased to offer all of our patients free Invisalign consultations, and upon the completion of an Invisalign treatment, we offer complimentary whitening.
Zoom Teeth Whitening
Zoom Teeth Whitening is a revolutionary and clinically proven method to get whiter teeth in just one hour. With Zoom Teeth Whitening you can get a whiter, brighter smile in one visit and leave the office with a dazzling smile.
The approach is simple. During your Zoom Teeth Whitening treatment, a trained technician places a protective gel on your gums. They then apply Zoom Teeth Whitening gel with hydrogen peroxide to your teeth and expose your teeth to a special light. When light hits the gel, oxygen enters the enamel and dentin of your teeth to bleach and whiten stained teeth. Zoom Teeth Whitening is painless, although you might experience some tooth sensitivity during the treatment and after.
The system also delivers results. Zoom Teeth Whitening lifts the color of your teeth by 6 to 8 shades, and you can expect the results to last 12 to 24 months. The procedure has a high satisfaction rate and will give you the brighter smile you've been looking for.
If you have many fillings, implants, or restorations, you may not be a good candidate for Zoom Teeth Whitening because these components don't respond to tooth whitening. If that's a concern, talk to your dentist about whether Zoom Teeth Whitening is right for you.
At-Home teeth whitening
Teeth whitening can be a great option for people whose teeth have darkened from age, coffee, tea or smoking. The active ingredient in most whitening products is carbamide peroxide. When water comes in contact with this white crystal, hydrogen peroxide is released, which whitens teeth. We've found that many patients have had success with dentist-supervised at-home whitening treatments. These treatments usually last between 2 to 4 weeks. While teeth whitening is a great option for some, it's not the right option for everyone. We recommend scheduling a consultation with our clinic before starting a whitening regimen.

Contact Us
"*" indicates required fields